Don your croquet whites for the third annual Colonel's Croquet Party Saturday, September 13th.Play the same game of croquet you play in your backyard and help preserve history on the grounds of the Arsenal's Quarters One.
Colonel's Croquet Party
Saturday, Septemeber 13th
2:00 p.m.
Arsenal Island
Same Backyard Croquet... Fun Quad Cities Event!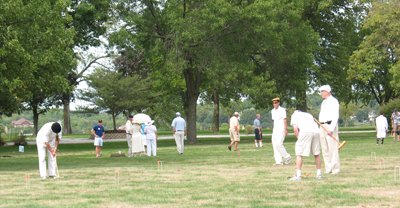 Contact Event Chair Jessica Waytenick at 309-737-4280 or by email with questions or to register!
Cash, check, and credit card accepted.
NEW THIS YEAR! Kids can join characters from Alice in Wonderland to play a kid-sized version of croquet during the event and get their picture taken.
Don your croquet whites (not required) to play the same game of croquet you play in your backyard. Croquet (cro-KAY) courts will be set up on the lawn of the historic Quarters One.
Teams of two can play in the round robin tournament. Or there will be courts for those who just want to join the fun and play croquet with other enthusiasts in the Quad Cities.
In you want to play in the casual tournament, you'll receive your team number and be assigned a bracket placement. Individuals will be teamed up that day. Then after a quick review session and a review of the rules for nine-wicket croquet, play begins! Players will compete for the coveted Colonel Davenport trophy.
Equipment will be provided – we have some new croquet sets to use!There will be hors d'oeuvres and drinks served al fresco at Quarters One. No-host bar available. Creekside Winery will be there with the popular complimentary wine tasting (if 21+ yrs.). Attendees also receive a complimentary guided tour of the Colonel Davenport House.
Parking is available at the Arsenal Island Golf Club. A current U.S. picture ID for persons 16 years or older is needed in order to be permitted on Arsenal Island because it is a working military facility. You can access Arsenal Island using the Rock Island or Moline, Illinois, gates.
Help Bring Back History!
The non-profit Colonel Davenport Historical Foundation (CDHF) is working on the reconstruction of the east wing of the historic Colonel Davenport House. The east and west wings of the house were razed due to disrepair. The west wing of the house was reconstructed in 1998. Built in 1833-34, the house is listed on the National Register of Historic Places. The CDHF is an all-volunteer organization that maintains the house and also works to share his story and the early history of the Quad Cities area with the community.
Thank You to Our Colonel's Croquet Party Partners!