Flood relief concert planned for June 7
Community-wide donor fund established
The RiverCenter, in collaboration with the Downtown Davenport Partnership, Moeller Nights, the River Music Experience and Rexroat Sound RS, LLC, invites community members to save the date for a flood relief benefit concert "Flood Fest" to be held Friday, June 7, at the River Center in Davenport. All proceeds from the concert will support downtown Davenport recovery efforts.
"While the flooding has significantly impacted downtown Davenport businesses, I'm proud of how our Quad Cities community has rallied to provide support. As we get to the recovery process, it will soon be time to help those who are rebuilding. This flood relief benefit concert is shaping up to be an epic show and provide all Quad Citizens the opportunity to support recovery efforts," said Kyle Carter, Executive Director, Downtown Davenport Partnership, a division of the Quad Cities Chamber.
Proceeds from the concert will be shared with Grow Quad Cities – Iowa, a 501(c)3 whose mission is to improve the general economic well-being of the Scott County area and the greater Iowa Quad Cities area. Donations are tax deductible per IRS guidelines.
Grow Quad Cities – Iowa also will serve as a fund for community members wishing to donate to help with flood recovery efforts. Downtown Davenport Partnership, a non-profit organization focused on the strategic growth and beautification of historic downtown Davenport, will help determine fund distribution to those businesses in need.
Those unable to attend the concert or wishing to donate further may do so by mailing a check to:
Grow Quad Cities Fund – Iowa
331 W. 3rd Street, Suite 100
Davenport, IA 52801
Ticket information and musical guests will be announced soon as details are confirmed. For more information, visit www.downtowndavenport.com.
Downtown Davenport is resilient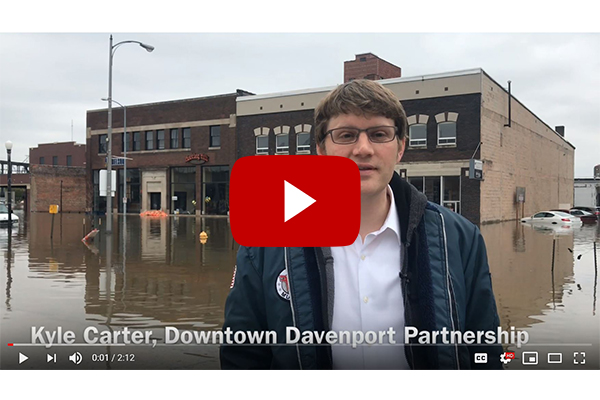 This flood is devastating but at the same time, it really shows the character of who we are as a community. The response has been incredible. The number of people and volunteers that have offered assistance has been both exactly what we expected it to be and we hope to continue to build on as we move from the disaster element of this into the recovery piece of this.
Quad Citizens please support local businesses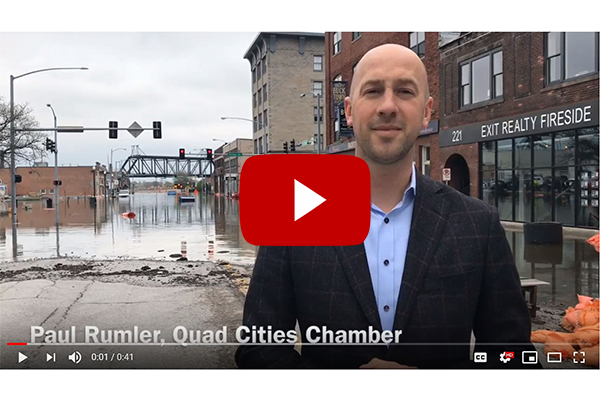 If there was ever a time to support small business and your downtowns, now would be that time. Plan an extra lunch or schedule a time to go shopping. Because after the flood waters go away, that's really the time people will be assessing what happened. Now it's time for the Quad Cities to rally together and support each other, as we do best.
Other Resources and Things to Know:
• The Scott County Emergency Management Agency has set up two phone numbers for those both wanting to volunteer and those businesses in need of volunteer assistance. Businesses in Scott County that need volunteer help call 563.484.3098. Individuals, businesses and organizations that want to volunteer to help call 563.484.3086.
• For an updated list on downtown businesses that are open visit https://www.downtowndavenport.com/culture/open-businesses-downtown-davenport
• Downtown Davenport businesses who need sand bags can contact Public Works at 563.326.7923.
• Two hour on-street parking, River Center and Harrison Street parking ramps in downtown Davenport are not going to be enforced until 8 a.m. Wednesday, May 8.
• The City of Davenport is actively compiling sources of assistance and other resources that may be able to assist in recovery efforts. This information will likely be distributed in several different formats over the next days and weeks visit http://cityofdavenportiowa.com/news/what_s_new/2019_flood_response
Scott County Emergency Management Agency will assemble a multi-agency resource center in the future to offer assistance to businesses.
Saturday, June 8, 2019 TaxSlayer Center, Moline

Saturday June 8, 2019 from 8AM - 2PM in the 600 block of 15th Avenue…