These Cyber Monday Apple Watch deals are still live
Apple supercharged the wearable tech market in 2014 when it introduced the Apple Watch. Since then, nine generations of the Apple Watch have been released, with designs ranging from the utilitarian to the ultra-luxe. Apple just launched its latest generation, the Series 9, in September, along with the second generation of its rugged Apple Watch Ultra.
With even faster hardware, brighter screens and better sensors, these models cost a pretty penny. But right now, you can save a bundle because BestReviews is here to help you find the best Cyber Monday Apple Watch deals, not just on the Series 9 and Ultra 2, but on the still-powerful Series 8 and 7 models, as well as the affordable and versatile Apple Watch SE.
We've tested the Series 9 and other models in our Testing Lab, and we've researched and recommended Apple Watch models from the beginning. We're on top of the best deals, deepest discounts and biggest bargains on Apple Watches this holiday season. We'll continue to update these deals as prices change, so keep checking this page for more.
Last updated on Nov. 27, 2023, at 12:01 a.m. PT.
Best Apple Watch deals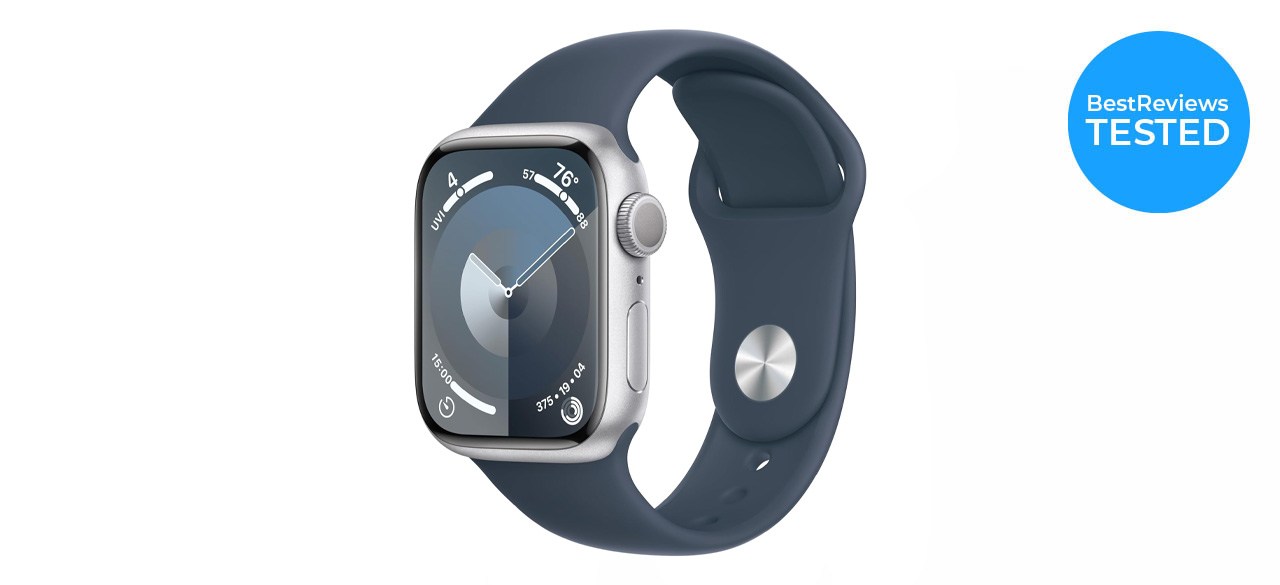 18% OFF
The Apple Watch Series 9 is Apple's latest watch, with its new system-in-a-package (SiP) chip making all the functions of the watch smoother, a claim we verified when we tested it in our Testing Lab. It has blood O2 monitoring, single-lead ECG, skin-temperature sensors, sunlight-exposure tracking and sleep tracking. It supports the new double-tap gesture that lets you interact with it while your hands are full. This GPS-only model is also available in a larger 45-millimeter case size and larger bands. It's down from $399 to $329 after a 18% discount.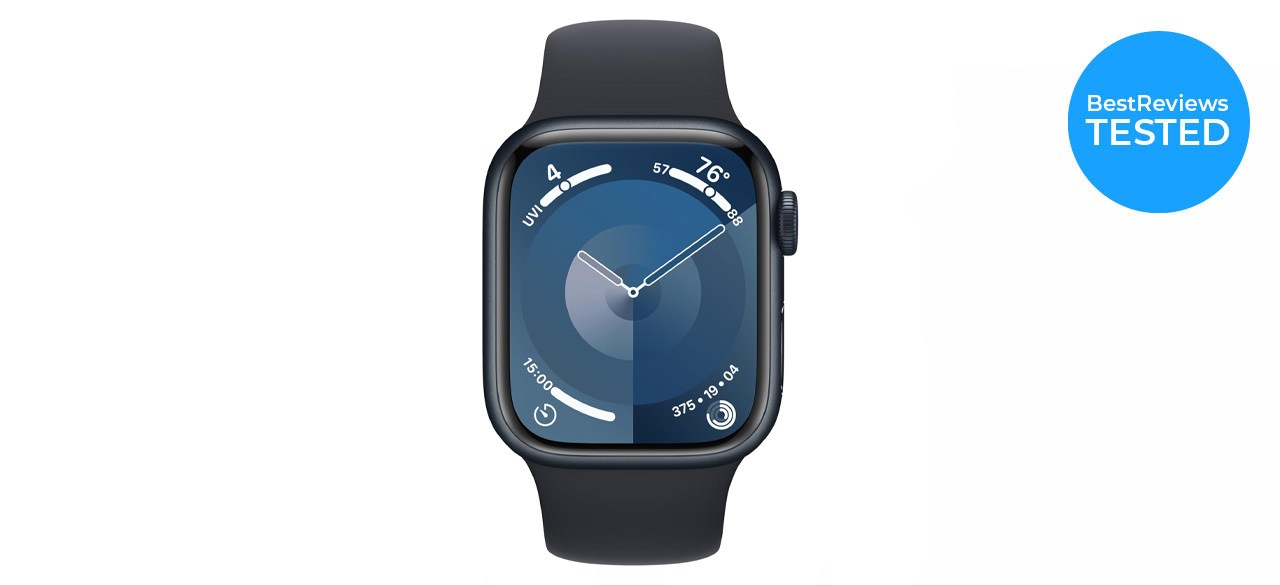 14% OFF
The Apple Watch Series 9 is also available in the GPS + cellular model, which allows you to make phone calls directly from your watch and keep connected without a separate phone or Wi-Fi connection handy, making it great for walks or runs outdoors. Like the GPS only model, this GPS + cellular model can also come in a 45-millimeter size and larger bands. Get it for $429, after a 14% price cut from $499.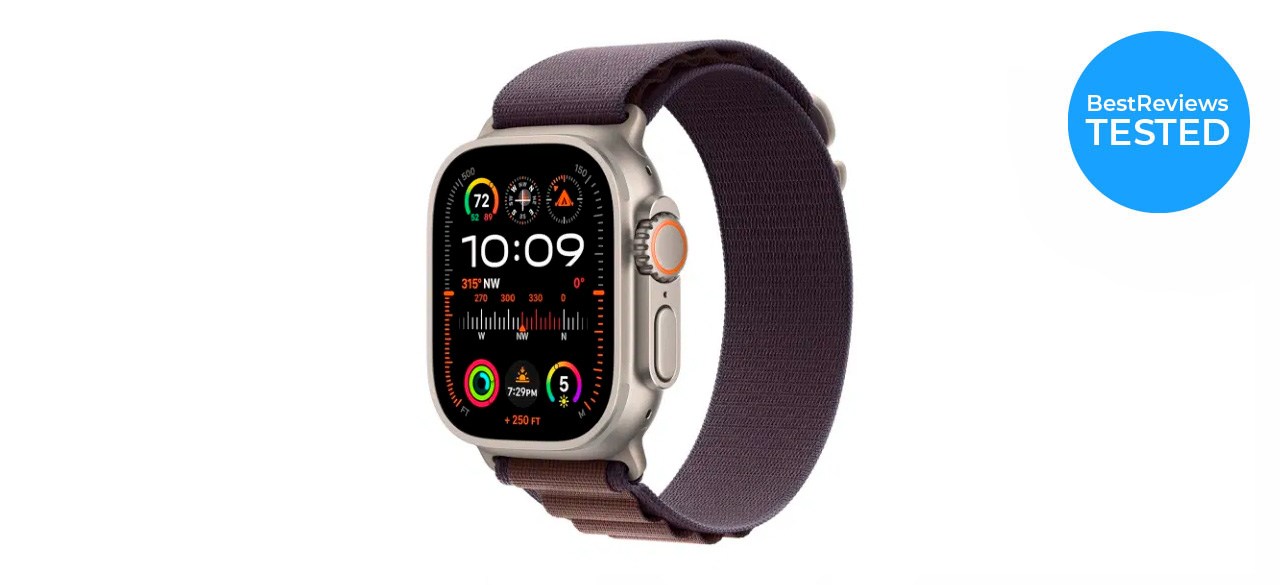 8% OFF
We tested the original Apple Watch Ultra, including ski trips and blazing summer weather, worn all day and overnight, and it never failed. Despite its size, its lightweight titanium case and strap comfort made it a breeze to wear. The Ultra 2 comes with a faster SiP chip and a brighter screen. It's got 2 GPS radios for staying connected in the backcountry and is waterproof for recreational diving to 40 meters. At 8% off, you can get this watch for $739 instead of $799.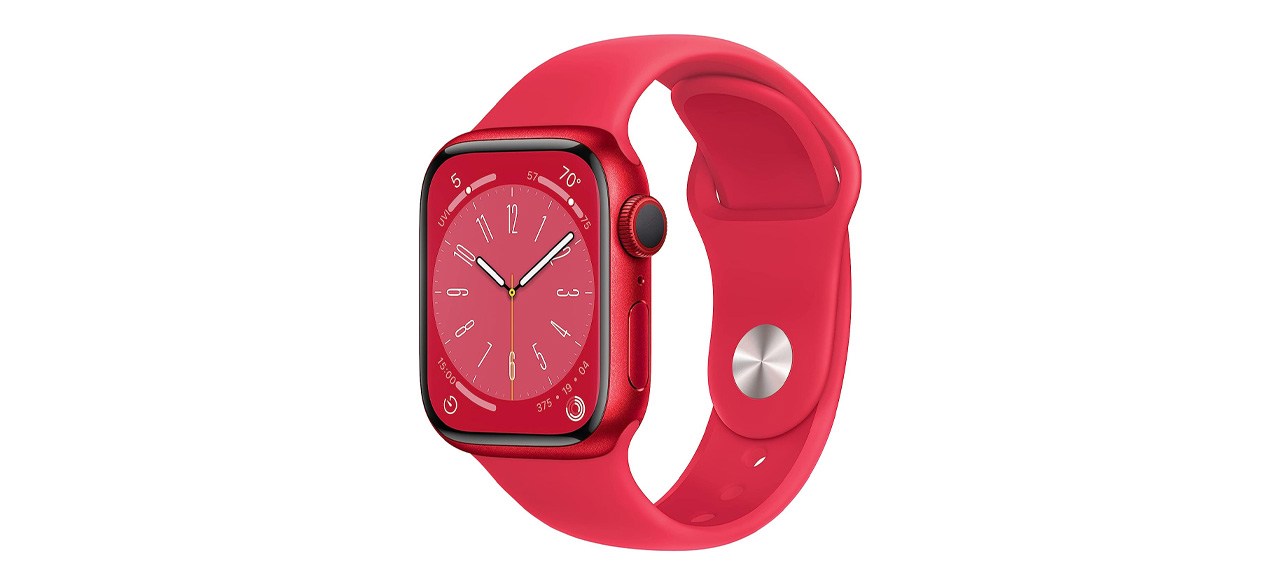 20% OFF
Last year's top model, the Apple Watch Series 8 is still one of the best Apple Watches available, with a powerful system-in-package for smooth operation and a wealth of health sensors including blood O2 and ECG. This 41-millimeter GPS + cellular model is in (product)RED, which means a portion of the proceeds are donated to the Global Fund fighting HIV/AIDS and other diseases. Save 20% after a price drop from $499 to $399.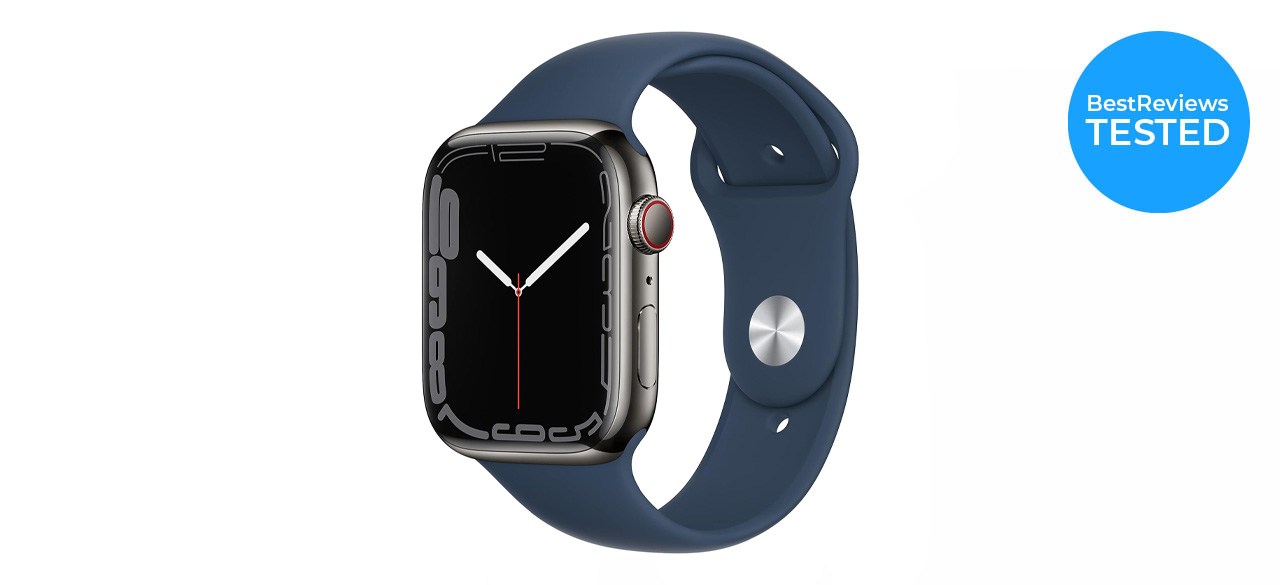 43% OFF
2021's Apple Watch Series 7 is deeply discounted for Cyber Monday. It's got the bright always-on screen of the Series 8 and 9, and it introduced the blood O2 sensor that's now standard on the top-line Apple Watch models. We tested the Series 7 when it came out and found its fitness features a great motivation for running or working out. This deal is on the GPS + cellular model in the 45-millimeter case, giving you all the freedom to make calls and connect to the internet without a phone or Wi-Fi, and it's at a steal of a price. The price was dropped 45% from $749 to $414.59.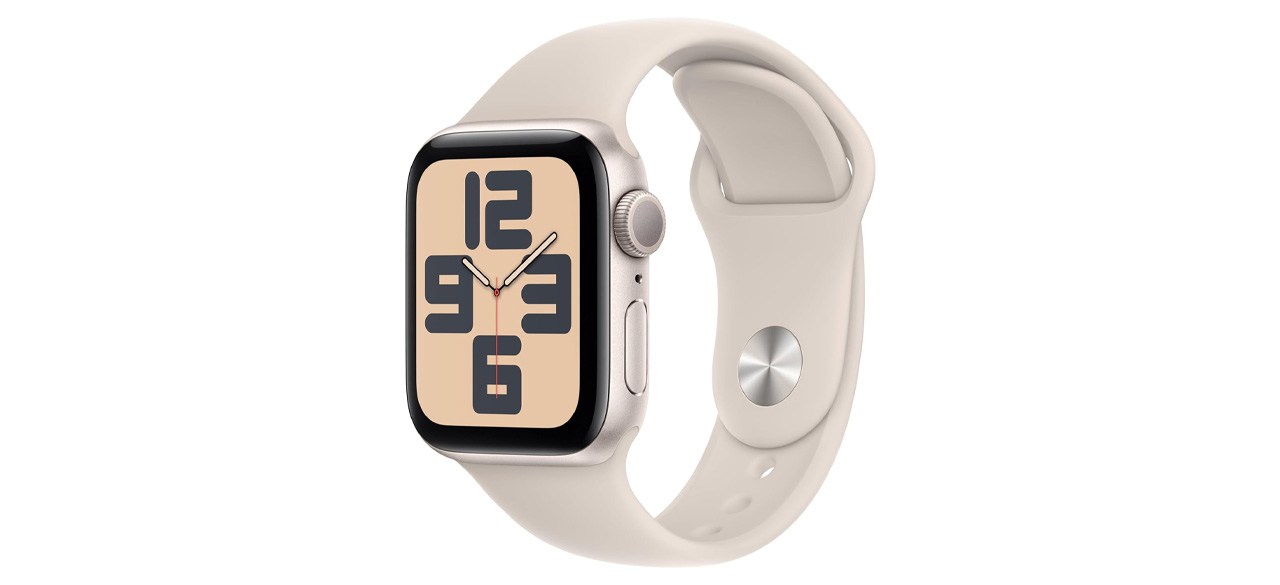 24% OFF
The Apple Watch SE is Apple's low-cost model, so any deals on this makes it an even better value. It doesn't have the always-on screen, blood ox, ECG or skin-temp sensors of the Series 9, but it has practically everything else. The 2nd generation model boasts a faster 8th-generation SiP chip and Bluetooth 5.3 instead of Bluetooth 5.0. It was $249, but on Cyber Monday the sale has it down to 24% off at $189.
Amazon Apple Watch deals
Walmart Apple Watch deals
Best Buy Apple Watch deals
Who has the best Apple Watch Cyber Monday deals?
The best places to look for Cyber Monday deals on Apple Watches are Amazon, Walmart and Best Buy. These big retailers can offer deep discounts on the latest models in new and unopened condition compared to others, and they offer robust and forgiving shipping, pickup and return policies.
Apple's own Apple Store is rarely the place to find the best deals on Cyber Monday. When it does offer discounts, they're usually in the form of an Apple Store gift card, so you're not really saving real money unless you're looking for more Apple tech.
How to choose the best Apple Watch
Case size
Except for the Apple Watch Ultra, Apple Watches come in two otherwise identical case sizes. These sizes are 41 and 45 millimeters for the Series 9, 8, 7 and 6 models, and 40 and 44 millimeters for the Apple Watch SE, Series 5 and Series 4. The smaller case size is generally more suited to smaller wrists and smaller hands, while the larger size looks good with bigger hands. The Ultra comes in only one 49-millimeter case size, which looks pretty big and bulky, but we found it just as comfortable to wear as other Apple Watches.
Case material and color
Apple Watch cases have always featured aluminum and stainless steel versions. Both come in various colors, with the dark black, midnight (blue-black), silver and starlight (yellow-silver) colors being the easiest to pair with outfits and bands. The aluminum cases typically have matte finishes, while the stainless steel cases have a polished finish. The very first generation of Apple Watch also had cases made of a gold alloy, but these are now considered vintage.
The Apple Watch Ultra, both the first and second generation, features a tough, lightweight titanium case in select colors.
Screen size and brightness
Since the Series 5, the Apple Watch has featured an always-on screen, which dims slightly but doesn't turn off on your wrist. This lets you pick a face that remains visible at all times, as part of your outfit or look. The Apple Watch SE and Series 4 and earlier don't have this feature. In our testing we found the brightness of the Apple Watch Series 9 and Apple Watch Ultra both to be easily visible and legible even in broad daylight. They also dimmed enough to be clear, but unobtrusive in dark rooms and at night.
Since the Series 6, the viewable size of the Apple Watch screen has also gone to the curved edges of the display, reducing the black bezel compared to the SE and older models.
Bands
All new Apple Watches come with a band in either small/medium or medium/large sizes. Apple Watch bands are easy to swap, so you can change bands depending on your outfit or activity, but it's easier if the Apple Watch you buy comes with a band you like. Note that bands made for the Apple Watch SE and earlier won't fit the Series 6 to 9 models due to the 1-millimeter difference in their case sizes. We found the bands of the Apple Watch series 9 and Apple Watch Ultra to be very comfortable and easy to wear in our tests, with the Ultra's band being comfortable enough to wear in our sleep.
GPS or cellular
Apple Watches offer either GPS or GPS plus cellular connectivity, but all Apple Watch Ultra models are GPS plus cellular. The GPS models need an iPhone to make calls and can only connect to Wi-Fi and GPS positioning services when by themselves. GPS plus Cellular models come with their own cellular radios and can connect to cellular networks on their own, but they're more expensive.
Health and fitness
The Apple Watch's health and fitness features have only grown over the years, and their presence or absence is a big differentiator between the SE and main series watches. Do you need the blood O2 sensor, ECG app and skin-temp sensors of the Series 9? If you just want a heart rate tracker for fitness and health measurements, you might be satisfied with the more affordable Apple Watch SE.
We found the health data to be helpful and informative in our tests, but Apple likes to remind consumers that a smartwatch isn't a diagnostic tool. The fitness tracking, on the other hand, was something we found both highly useful and easy to use.
Which Apple Watch is best?
With every generation, the Apple Watch has improved on its screen, sensors and the smoothness of its system. That's still the case with the latest Apple Watch Series 9. While it can be considered more of an iterative than revolutionary improvement over the Series 8, the Series 9's refinements allow it to surpass its predecessor, especially in screen brightness and app responsiveness. If you have an iPhone 15, it also lets you find your phone with directions down to the nearest foot, as if your phone had an Apple AirTag.
The Apple Watch Ultra 2 can be considered a different series from the main Apple Watch, with its rugged titanium case and rugged construction. It can go places and stand up to extremes better than the Apple Watch Series 9, but its design might make it less versatile as a fashion accessory.
How to find the best Apple Watch deals
We'll be updating this page throughout the sales event, so keep it bookmarked for our picks on the best Apple Watch deals. Don't forget to check our Daily Deals page as well for the latest live updates on prices and deals.
Here are some more tips to help you find the best deals on the Apple Watch you want.
Check frequently. Prices and deals are going to change and fluctuate daily, sometimes hourly. Keep an eye on retailers' Cyber Monday and sale pages as well as the product pages of the Apple Watch models you've got your eye on.
Comparison shop. Amazon, Walmart, Best Buy, Target and other retailers will be trying to outdo each other with their deals, and some may offer to match the prices of competitors.
Check for discontinued or refurbished models. Older Apple Watch generations are still great smartwatches and may support the latest software updates as well as new models do. The Apple Watch Series 8, 7 and 6 as well as the first-generation Apple Watch SE are great models to consider for top features at low prices and deep discounts.
Consider open-box models. Best Buy in particular is known for discounts on merchandise that's marked open-box or store models. After being properly reset and polished, it's almost impossible to tell an undamaged open-box Apple Watch from one that's brand-new.
Want to shop the best products at the best prices? Check out Daily Deals from BestReviews.
Sign up here to receive the BestReviews weekly newsletter for useful advice on new products and noteworthy deals.
Jmar Gambol writes for BestReviews. BestReviews has helped millions of consumers simplify their purchasing decisions, saving them time and money.
Copyright 2023 BestReviews, a Nexstar company. All rights reserved.